Welcome to Simply Marcella, Michigan's most chic Boutique!
Shop Simply Marcella for the perfect fashion accessories to have you feeling beautiful and stylish every day. Find that ideal touch of elegance for your favorite little black dress or a fun pick me up for your most comfortable pair of jeans. Whatever your plans, Simply Marcella has just the thing to make you, and your day, simply special.
Browse our website and immerse yourself in a world of sumptuous gifts and accessible luxury for you, your family, and your friends. With all the beauty and sparkle of Simply Marcella's elegant online offerings as a mainstay of your fashion repertoire, you can be a trendsetter from the comfort of your home. Enjoy Simply Marcella's ever-evolving signature line, Simply Pearls, our fabulous South Seas Collection, Le Pures soaps and lotions, and so much more.
For the ultimate chic shopping experience, join us at any of our locations in beautiful Michigan: The heart of Lake Orion's fun packed dining and shopping district, our fabulous new location in revitalized downtown Cheboygan, or on the main street of lovely St. Clair, the birthplace of Simply Marcella. You'll fall in love with the comfortable atmosphere and the quiet sophistication, touched with a modern-rustic quality unique to Simply Marcella.
Simply Marcella offers a wide array of flattering choices whether your fashion mood is free-spirited and whimsical, trendy chic, or classically timeless. With constantly replenished store-only imported handbags, wallets and purses, glorious hats and headbands, specialty belts, dresses, tops, coats and more, you can return every week and always find something new. At Simply Marcella, there is a gift for everyone on your shopping list and always something special for you.
Marcella Costin is a teacher turned world-traveling entrepreneur with one simple dream, to make beauty and joy accessible to every woman. What started out as a way to give stunning gifts to her loved ones has grown into a passion for giving all women access to the classy-chic look of her custom designs and hand-selected apparel.
Marcella's personal touch shines in every aspect of her boutique, from the graceful furnishings to the carefully cultivated vibe of relaxed and stylish renovation-chic. It is her desire that each detail blend to create a unique shopping experience that will be as enjoyable and sought after as the gifts themselves.
Marcella opened her first boutique in beautiful St. Clair, Michigan in 2008 and made it a cornerstone of the community for eight wonderful years. While it was with sorrow that she parted with her St. Clair location in the fall of 2016, the change permitted her to focus on reinventing her Lake Orion Simply Marcella, which opened in 2012, located in the lively Lake Orion shopping district. In 2017, Simply Marcella opened a new boutique right in the heart of downtown Cheboygan. Coming full circle, in 2018, Simply Marcella returned home to St. Clair with an all new main street location.
Minnie Pearl
Meet our Miss Minnie Pearl!  This 9 year-old Westie has been with Marcella her entire life and has spent many (or should we say "Minnie") hours in the Simply Marcella boutiques.  Not only is Minnie Pearl a boutique dog, but she is a world traveler!  She grew up in St. Clair, Michigan, but spent two and a half years of her life in Helsinki, Finland, where she learned to LOVE the snow. Winter is Minnie's favorite season! In addition to living in Helsinki, Minnie has traveled to other countries including Holland, Canada and France where she has been seen at a wine café or two.  Minnie Pearl's favorite hobbies include boating, swimming, belly rubs and most of all, she enjoys her 8:00 pm Kong Time!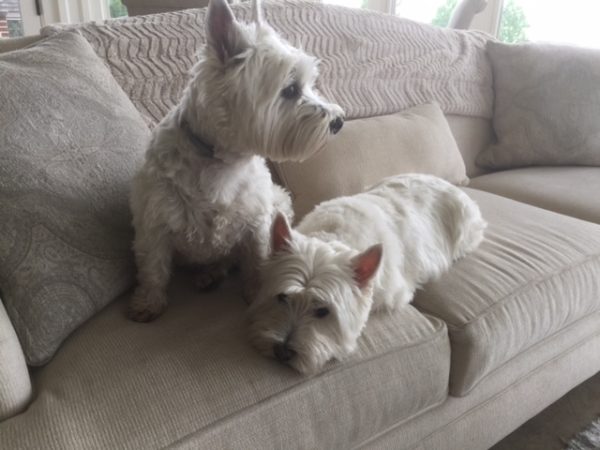 Marla May
Hello Miss Marla May!  This darling little Westie was adopted by the Costin family (Marcella, John and Minnie) in December of 2017.  She quickly found her way to the center of their hearts.  (Well, maybe not Minnie Pearl's quite yet, but she is getting there.)  Marla May was a breeder dog and had several puppies in her seven years of life. Every day is a joy for Marla!  She wakes up with her tail wagging and bounces her way through the day.  Marla May is beginning to enjoy traveling and a little bit of boating, but she prefers most of all to be curled up next to Marcella or John (and even Minnie)!  Ask Minnie Pearl about Marla May's morning kisses!